The National Indigenous Collaborative Housing Inc. (NICHI) was formed in November 2022 by Indigenous housing providers across the country to deliver "For Indigenous, by Indigenous" (FIBI) housing solutions for urban, rural, and northern Indigenous Peoples. We prioritize housing as a human right with a goal to achieve a national urban, rural and northern (URN) Indigenous Housing Strategy that is fully Indigenous led. NICHI advocates for holistic, serviced-based community housing that empowers Indigenous communities.
Funding available for organizations assisting those in greatest need
In Budget 2022, the Government of Canada committed $4.3 billion to support housing including $2.4 billion for First Nations on-reserve, and $1.6 billion for Inuit, Métis and First Nations Self-Governing and Modern Treaty communities. The funding so far has supported housing-related projects, including home improvements and repairs, and new homes.
Budget 2022 also provided $300 million to co-develop and launch an Urban, Rural, and Northern Indigenous Housing Strategy. To address the need for immediate action, the federal government announced $281.5 million from this $300 million funding for NICHI to address the critical need for safe and affordable urban, rural and northern Indigenous housing projects. While nowhere near enough to address the housing crisis facing 87% of the Indigenous population, this funding is a start. It will be delivered through an application process to identify and select infrastructure projects that address the urgent and unmet housing needs of Indigenous Peoples living away from their traditional communities.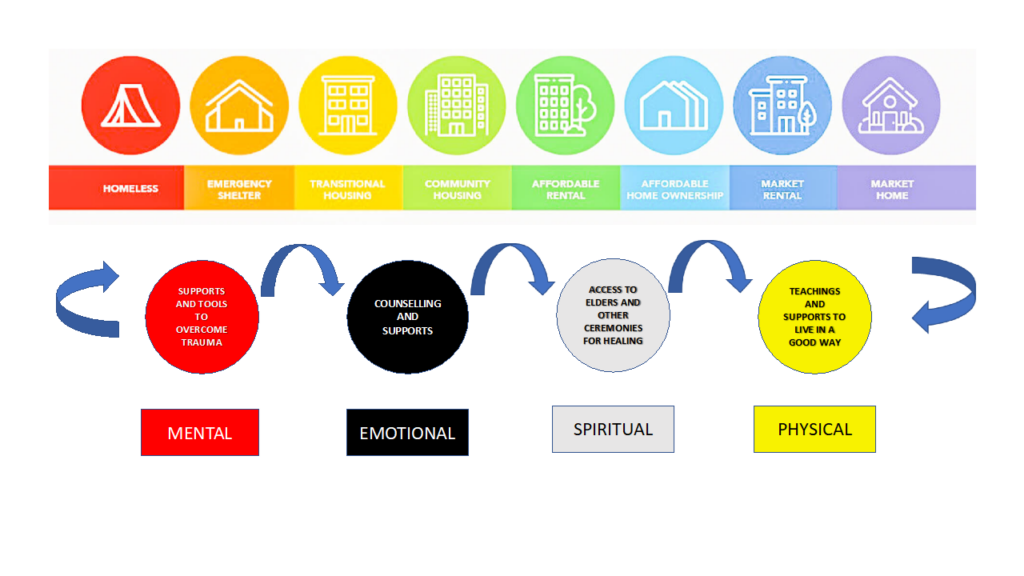 Of 677,000 Indigenous households living in urban, rural and northern areas across Canada, 124,000 are in core housing need, including 37,500 individuals experiencing homelessness. The funding is intended for those who have identified the most need.
NICHI is not a part of the Canadian government. NICHI has committed to addressing the need for safe, appropriate and affordable housing for urban, rural and northern people living away from their home communities or traditional territories. Access to safe and affordable housing is critical to improving health and social outcomes, and to ensure a better future for Indigenous communities and children. This funding initiative is part of the Government of Canada's commitment to address the social determinants of health and advance self-determination in alignment with the United Nations Declaration on the Rights of Indigenous People articles 21 and 23. Deploying funding through NICHI is part of the Government of Canada's commitment to moving ahead in the journey towards reconciliation.
For Indigenous By Indigenous
A For Indigenous By Indigenous (FIBI) approach re-engineers the funding system that was designed for Indigenous by government and left Indigenous people unserved, vulnerable and without cultural supports. It prioritizes the needs of Indigenous organizations needs to deliver an objective, fair and equitable process to reach housing providers regardless of size, capacity and geographic location.
Funding goals
    Address the housing gap of First Nations, Inuit and Métis people who live in urban, rural and northern areas face daily threats to housing security.
Support urban, rural and northern First Nation, Inuit and Métis housing and services delivery organizations to meet the urgent and unmet housing needs of Indigenous Peoples.
    Ensure that there is an open, fair, and regionally balanced application process.
Funding is for
Housing providers across Canada who are:
Indigenous-led/owned and/or organizations that are strongly supported by Indigenous peoples in the community. Organizations that partner with Indigenous organizations can be considered;
non-profit
addressing urgent and unmet needs for urban, rural and northern Indigenous peoples
who provide at least one of the following:

Supportive housing
Transitional services
Operational support
Our process is rooted in traditional knowledge
No expertise or insights are more relevant than those from Indigenous organizations. Your Indigenous voice is best to identify the housing and service delivery needs of your community. NICHI wants to work with Indigenous-led organizations to build housing capacity for all Indigenous individuals from coast to coast to coast. We strongly believe that all Indigenous people have the right to access housing wherever they are on the continuum. NICHI is listening to Indigenous-led housing and service delivery providers, to identify the urgent and unmet needs in all regions of Canada.
Tell us your funding requirements and identify your specific urgent and unmet needs.
      How will funding help?
      What is the housing need your project addresses in your community?
      Where you are on the Indigenous housing continuum?
      What are the urgent and unmet needs you plan to address?
      How the funding will address it?
This uniquely Indigenous approach is designed to lead to a fair and equitable disbursement of the limited funding.
How to apply
Expression of Need applications for funding will be available online on the NICHI website. If you are interested in applying, please visit the Contact page and submit your name, organization and email address so we can notify you when the applications open. You may also check social media: X (formerly Twitter), @NICHI_housing; LinkedIn, NICHI (National Indigenous Collaborative Housing Inc.); Facebook, National Indigenous Housing Collaborative Inc.-NICHI.
Types of funding
There will be two funding categories for assistance:
Capacity & Organizational Development: Up to $1 million targeted to project development, on the ground assistance, operational shortfalls and other project development requirements such as modernisation and improvement needed to ensure project success/continuity.
Capital Development: Project Funding requirements in excess of $1 million up to $10 million needed leverage further funding for large scale projects, major renovations, new builds, etc.
Key dates
October 30 12-1pm ET, Webinar I - Introduce NICHI, the Funding Allocation, the timing, and criteria. Register here
16 November, 12-1pm  Webinar II – Call-out process explained with walk through application form, information required and the timing. Register here 
November 24th – Funding applications open on the NICHI website
January 12th – Application process ends
January 26th  –  (planned) Announcement of successful applicants
Upon funding roll-out, projects start
Project Selection Advisory Council
The Project Selection Advisory Council (PSAC) is made up of impartial Indigenous leaders who are housing experts from across Canada who understand the needs of urban, rural and northern communities. These volunteers have worked for Indigenous rights to Housing and access services for most of their professional lives and have been actively involved in the design and implementation of the process. They will also be directly involved in the evaluation process which includes reviewing all applications. Some have lived in different urban settings while others live in the north. Expertise on the council includes:
Coordination of youth, entrepreneurship and service delivery programs
Capital construction management
Cultural programming including the delivery of land-based healing programs and a recovery-oriented approach to ending homelessness
Expertise working with Indigenous communities, non-profit organizations and the friendship centre movement.
Financial management
Promotion of educational pathways and healing and recovery through culture
Members believe that Housing and a holistic approach in a culturally secure space could be the start of a healing process from colonization.